Governor Ye Jianchun visited Kai'an New Materials to provide guidance and encourage enterprises to become better, stronger, and bigger
---
ecently, Ye Jianchun, governor of the province and chief of the provincial key industrial chain visited Yingtan to investigate the construction of advanced manufacturing clusters for copper-based new materials. He emphasized the need to thoroughly implement the spirit of the 20th National Congress of the Communist Party of China and the spirit of General Secretary Xi Jinping's important speech during his inspection of Jiangxi. To the deployment requirements of the Fourth Plenary Session of the 15th Provincial Party Committee, we must focus on strategic planning, strengthen coordinated development, promote continuous innovation, and cultivate industrial ecology. , unswervingly make the copper industry chain better, stronger, and bigger, and continue to polish the Yingtan "World Copper Capital" brand.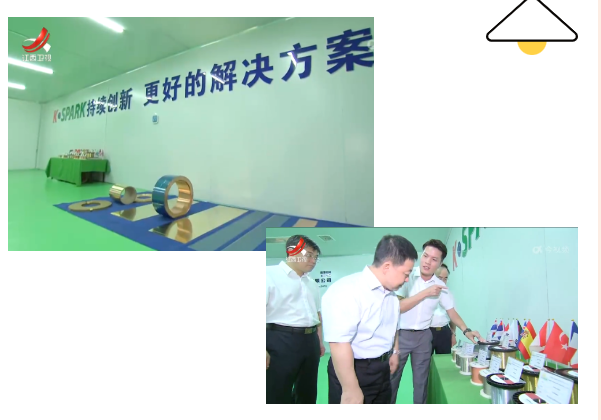 On August 9, Ye Jianchun, the provincial governor and chief of the provincial key industrial chain, visited our company to guide the investigation, and the chairman of Kai'an Group was reporting on the work of the industrial chain.
Ye Jianchun, Governor of the Province and Chief of the Provincial Key Industrial Chain General Chain encouraged enterprises to find their position in the industrial chain, make good use of their agglomeration advantages and their comparative advantages, and continue to dig deeper by understanding the process flow, product applications, technological innovations, etc. development potential.
Unswervingly makes the copper industry chain better, stronger, and bigger
During the visit and explanation, Ye Jianchun listened carefully to the needs and expectations of the enterprise's development and conveyed the determination of the provincial party committee and the provincial government to help enterprises solve their problems and support Yingtan in building an important national base for copper-based new materials.
We also hope that our company will strengthen its confidence, follow the path of innovative development, and help the Yingtan copper industry chain develop more balanced on the smelting end, processing end, and application end.
During the investigation, Ye Jianchun focused on the scale, production capacity, technological innovation, and other aspects of the advanced manufacturing cluster of copper-based new materials. He had an in-depth understanding of our company's development model, and product research and development, and coordinated development with other related industries. He expressed his belief that with the joint efforts of the Yingtan municipal government and enterprises, greater achievements will be achieved in the future and greater contributions will be made to the economic development of the region.
This survey is the first industry chain survey conducted by the general chain leader since our province implemented the "1269" action plan for the modernization of key manufacturing industry chains. Vice Governor Xia Wenyong conducted the investigation together. This survey is not only of great significance to the development of advanced manufacturing clusters for copper-based new materials but also provides useful reference experience for the construction of other industrial chains. It is believed that through the joint efforts of all parties, Yingtan's industrial development will usher in new opportunities and challenges.